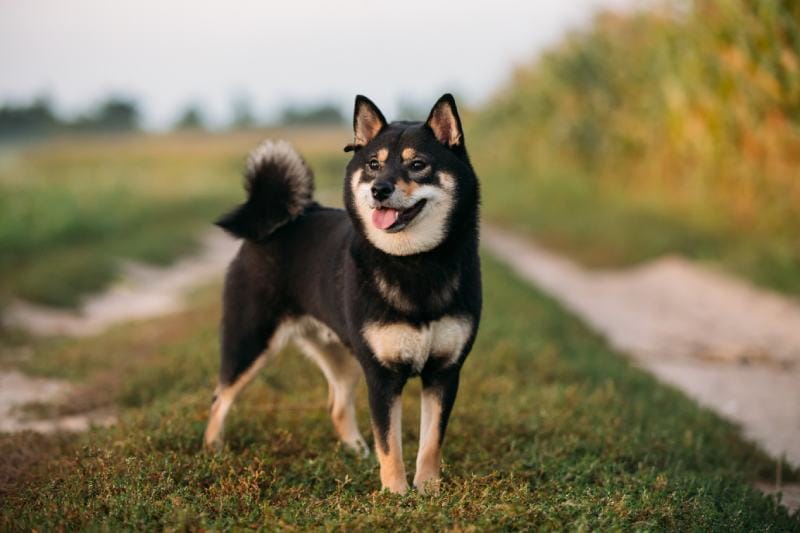 The Black & Tan Shiba Inu is an iconic breed of dog originating from Japan, recognized for its unique characteristics and captivating history. This dog breed has become popular among dog enthusiasts worldwide due to its distinct appearance and spirited personality.
Origin and History of the Black & Tan Shiba Inu
The Shiba Inu, in general, is Japan's smallest and oldest native dog breed, believed to have existed for over three millennia. Specifically, the Black & Tan variant is one of the four recognized colors in the Shiba Inu breed.
Physical Characteristics of the Black & Tan Shiba Inu
Characteristically, the Black & Tan Shiba Inu presents a bold and alluring contrast of a rich, black base coat offset by fiery tan markings known as "Urajiro." The Urajiro, which translates to "underside white," is a unique feature of this breed, appearing on the sides of the muzzle, cheeks, chest, and belly, inside the ears, and beneath the tail.
The Black & Tan Shiba Inu is compact, muscular, and well-balanced. They typically weigh between 17 to 23 pounds for males and 15 to 20 pounds for females, standing about 14.5 to 16.5 inches tall.
Temperament and Personality Traits
The Black & Tan Shiba Inu is known for its spirited yet well-mannered temperament. They are energetic, alert, and agile, with a keen intellect that contributes to their adaptable nature. This breed is also renowned for its independent and somewhat aloof nature, a trait that can make training a challenge but also lends a dignified air to their behavior.
Training and Socialization
Training a Black & Tan Shiba Inu requires patience and understanding. They are intelligent and independent dogs, known to be somewhat stubborn. Early socialization and consistent, positive reinforcement training techniques can help foster an obedient, well-adjusted dog.
Health and Lifespan
Shiba Inus are generally a healthy breed, with a lifespan of 12-15 years. However, like all dog breeds, they are prone to certain health conditions, including hip dysplasia, eye disorders, and allergies. Regular check-ups and an active lifestyle can ensure the longevity and wellness of your Black & Tan Shiba Inu.
Care and Maintenance
The Black & Tan Shiba Inu is a relatively low-maintenance breed when it comes to grooming. They have a double coat that sheds heavily twice a year. Regular brushing can help control shedding and keep their coat healthy.
The Black & Tan Shiba Inu as a Family Pet
Despite their independent nature, the Black & Tan Shiba Inus are loyal and protective, making them excellent family pets. They tend to get along well with children and can adapt well to apartment living, provided they get regular exercise.
Conclusion
The Black & Tan Shiba Inu is more than just an aesthetically pleasing breed. Their unique temperament, paired with their loyalty and intellect, makes them a compelling choice for families and individuals alike. Owning a Black & Tan Shiba Inu can be a richly rewarding experience, filled with companionship and the joy of having a loyal, vibrant pet