If you've ever found yourself pondering the question, "Can turtles climb?", you've come to the right place. We'll provide an in-depth exploration of this query, unraveling the fascinating world of turtles and their climbing abilities.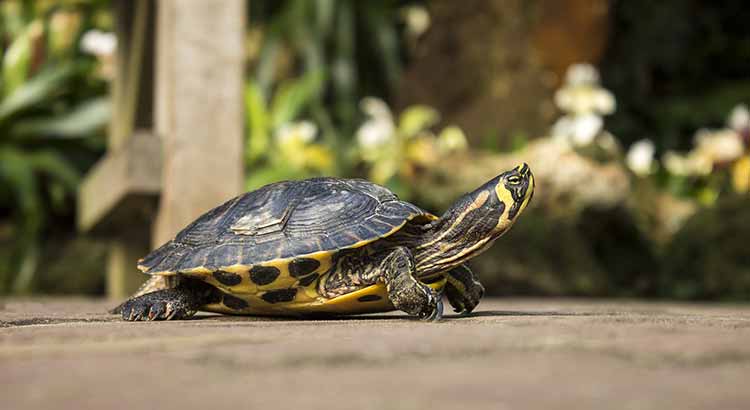 Understanding Turtle Anatomy and Behavior
When it comes to understanding why and how turtles climb, it's important to recognize the features that make this possible. Their powerful limbs and hardy shells work together to provide them the ability to maneuver in various environments. Turtles can climb over obstacles and even scale walls if they are low enough.
Turtles are persevering creatures with surprising strength. They will often continue to try and climb even if they are unsuccessful at first. This is why you may sometimes find a turtle attempting to scale the sides of its tank or enclosure.
Climbing Variations in Different Turtle Species
While it's true that turtles can climb to some extent, it's important to realize that their climbing capabilities vary significantly among species.
For instance, the Box Turtles, predominantly terrestrial, are known for their impressive climbing abilities. They are frequently found clambering over logs and rocks in their natural habitats.
On the other hand, Sea Turtles, adapted to a life in water, are not adept climbers. Their flippers are excellent for swimming but not designed for climbing.
In between, we have species like the Red-eared Sliders, popular in the pet trade, who exhibit an intermediate level of climbing prowess. In captivity, they often surprise their owners by climbing out of their tanks.
Turtles and Climbing in Captivity
When turtles are kept in captivity, their climbing behaviors can become more pronounced. This is often a result of the turtle's innate desire to explore and escape confinement.
It's essential to be aware of these behaviors and to keep an eye on your pet turtle. Make sure their enclosure is secure and that there's no risk of injury from falls.
Why Turtles Climb – The Underlying Reasons
While it's clear that turtles are capable of climbing, it's also important to understand the reasons behind this behavior.
Turtles climb primarily to seek food, avoid predators, find mates, or locate suitable basking sites. In the wild, climbing can be beneficial for turtles, allowing them to reach resources they otherwise wouldn't be able to.
Ensuring Your Pet Turtle's Safety
If you have a pet turtle who likes to climb, there are measures you should take to ensure its safety. Keep the enclosure secure to prevent escapes. Consider providing climbing platforms that are safe and don't pose a risk of tipping over.
It's also vital to monitor the turtle's behavior. If they are climbing excessively, it could be a sign of stress or dissatisfaction with their environment.
The Wonders of Turtle Climbing: Concluding Thoughts
While it may not be a well-known fact, turtles indeed have the ability to climb. This behavior varies among species and is influenced by environmental factors.
Whether it's the Box Turtle clambering over woodland obstacles or a Red-eared Slider exploring its tank, turtle climbing is a fascinating aspect of these remarkable creatures' behavior. Understanding this behavior can help us appreciate turtles more and ensure their well-being, especially for those in captivity.
In conclusion, while turtles might not be the most adept climbers in the animal kingdom, they certainly are capable of this surprising behavior. It's yet another testament to the fascinating, adaptable nature of these ancient reptiles.