Mini Bernedoodles and Mini Goldendoodles are two popular hybrid dog breeds that are a result of crossbreeding Bernese Mountain Dogs and Miniature Poodles, and Golden Retrievers and Miniature Poodles, respectively. While they share some similarities due to their Poodle ancestry, there are also distinct differences between the two breeds.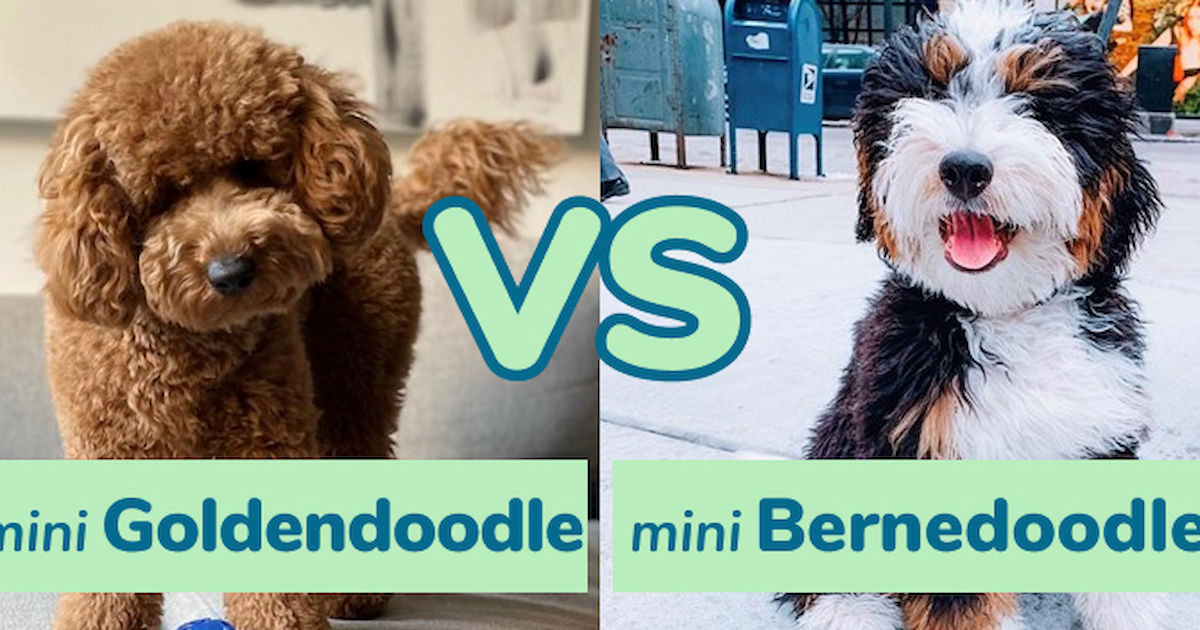 1. Appearance:
Mini Bernedoodle: These dogs typically have a tricolor coat, combining black, white, and rust/brown markings. They often have the recognizable Bernese Mountain Dog coat pattern.
Mini Goldendoodle: Mini Goldendoodles tend to have a more varied coat color range, including shades of cream, gold, red, and sometimes even apricot. Their coats might be wavy or curly, resembling the Poodle's coat texture.
2. Size:
Mini Bernedoodle: Generally, mini Bernedoodles are slightly smaller in size compared to mini Goldendoodles. They usually stand around 18 to 22 inches (45 to 56 cm) at the shoulder and weigh between 25 to 50 pounds (11 to 23 kg).
Mini Goldendoodle: These dogs are slightly larger, with a height ranging from 20 to 24 inches (51 to 61 cm) at the shoulder, and a weight of approximately 30 to 45 pounds (14 to 20 kg).
3. Coat Texture:
Mini Bernedoodle: Their coats are usually a bit thicker and heavier, often having a straight to slightly wavy texture.
Mini Goldendoodle: Their coats are typically wavy or curly, inheriting the Poodle's curly coat trait. This can lead to more maintenance to prevent matting.

 4. Grooming:
Mini Bernedoodle: They require regular brushing to prevent tangling and matting, but their grooming needs are generally moderate compared to some other breeds.
Mini Goldendoodle: Due to their curly or wavy coats, Goldendoodles need more frequent grooming to prevent matting. Regular brushing and occasional professional grooming are essential.
5. Temperament:
Both Breeds: Mini Bernedoodles and Mini Goldendoodles are known for their friendly, social, and intelligent nature. They often make great family pets and are good with children and other pets.
Mini Bernedoodle: They may inherit some traits from the Bernese Mountain Dog, which can make them slightly more laid-back and reserved, but still affectionate.
Mini Goldendoodle: These dogs may have a bit more of the playful and outgoing temperament of the Golden Retriever, making them very sociable and energetic.
6. Health Considerations:
Both Breeds: Like all hybrid dogs, both breeds can inherit a mix of health traits from their parent breeds. Potential health concerns can include hip dysplasia, eye issues, and certain genetic conditions.
Mini Bernedoodle: They might be more prone to certain Bernese Mountain Dog health issues, such as hip and elbow dysplasia.
Mini Goldendoodle: They could inherit conditions common to Golden Retrievers, like heart problems or certain types of cancer.
In summary, while Mini Bernedoodles and Mini Goldendoodles share some similarities due to their common Poodle ancestry, they also have distinct differences in terms of appearance, size, coat texture, grooming needs, temperament, and potential health considerations. When choosing between the two breeds, it's important to consider your preferences, lifestyle, and the specific traits you're looking for in a canine companion